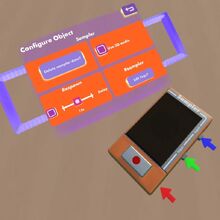 Samplers can record and playback up to 30 seconds of audio. They are available in Custom Rooms from the "Gadgets" tab of the Palette (in category "Other Gadgets"). They can be wired to Circuits to control the playback of recordings. Use the Configure mode tool of the Maker Pen to configure the sampler.
To record audio, spawn in a sampler, and click the record button with your hand, not the maker pen. Speak into your microphone, and the sampler will take any audio that goes through your microphone and save it. You can delete any previously recorded audio by using the Configure mode tool of the Maker Pen, and clicking "Delete sampler audio".
Community content is available under
CC-BY-SA
unless otherwise noted.