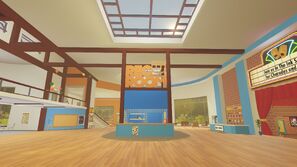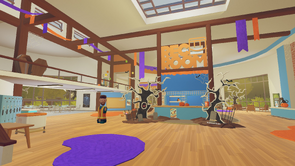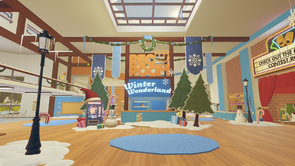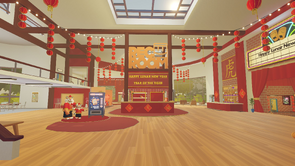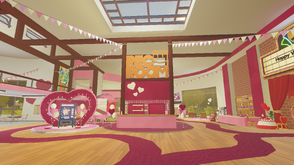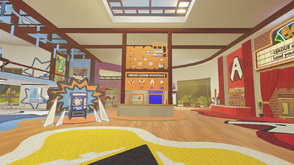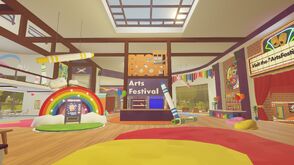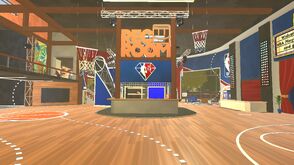 The Rec Center (formerly known as the "Locker Room") is the public area between your Dorm Room and other rooms (#RecRoomOriginal Games and Custom Rooms). If you walk out the door of your Dorm Room, you will be at the entrance to the Rec Center. You can always use the "Rec Center" button on your Watch Menu to get to the Rec Center.
In the Rec Center, you can interact with other players, play with the objects in the area, or go through one of the doors to any #RecRoomOriginal Game or currently featured Custom Rooms. (Note that you can always go straight to any room with the Play Menu of your Watch Menu.). On some notable holidays, the Rec Center may receive special little redesigns, i.e.: Rec Room's 5th Birthday with streamers, flags, and many buckets.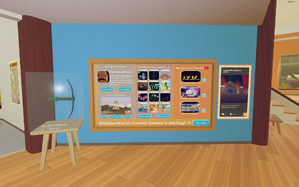 Some of the objects you can play with in the Rec Center are basketballs, frisbees, dodgeballs, a rolling cart, water bottles, buckets, a ping-pong table with paddles, a cafeteria, etc. The Merch Booth is also in the Rec Center, where you can buy featured Cosmetic Items and Consumables.
Many players use the Rec Center to meet new people to play games with and to casually socialize. However, the quality of your experience in the Rec Center depends on the players who you meet there. Be prepared that you might meet some players who are not familiar with Rec Room's Code of Conduct and who therefore might behave in inappropriate ways. Please inform these players about the code of conduct and consider reporting them if they are not willing to abide by it.
Doors in the Rec Center
The Rec Center has several doors to #RecRoomOriginal Games and featured Custom Rooms. Attempting to go through any of the doors, opens a list of relevant rooms.
Merch Booth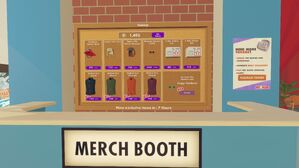 The Merch Booth allows you to buy Packages with Cosmetic Items for tokens. (You obtain tokens in other Packages.) The Merch Booth is similar to the booth in Laser Tag: you can select a Cosmetic Item by pointing at it and pulling the trigger of your controller. After that, you have to confirm your purchase.
Note that you can buy most items for the same price with the Store Menu of your Watch Menu in any room.
A history of items from the merch booth can be found here.
Concept Art
Update History