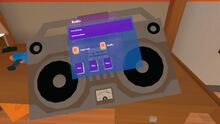 Radios are available in the Dorm Room, Rec Center, Lounge, and from the "Props" tab of the Palette (in the "Toys" category) in Custom Rooms. Grabbing a radio and rotating the front towards you brings up a menu that allows you to change the radio's settings with your other hand.
The available songs are: 1: Sport Funk; 2: In the Bassment; 3: Secret Room; 4: Goat Attitude; 5: Organism; 6: River Predator; 7: Flight Beam; 8: Electar; 9: JumboTron Explore; 10: Hangar; 11: Clearcut; 12: Food Court; 13: Goblin Work Song; 14: Range Finder; 15: Spillway; 16: Golden Trophy Explore; 17: Golden Trophy Combat; 18: JumboTron Combat; 19: BeeDM (Radio Edit); 20: Stunt Runners; 21: Stunt Runners (Final Lap); 22: Victory Lap; 23: New Jack Runner; 24: Crescendo Ballroom; 25: Dodge Baller; 26: Lone Shoe Blues; 27: Shanty; 28: Pirate Shopping Channel; 29: Crescendo Gavotte; 30: Intro; 31: Rec Room Theme; 32: Crescendo Boss; 33: Crescendo Miniboss; 34: Cyberjunk Combat; 35: Cyberjunk Explore; 36: Bowling; 37: Crimson Cauldron Mines; 38: The Ballad of VotaVader; 39: Shanty Piano Version; 40: Pirate Brawl, 41: Homestead Varmint.
The Ambience Radio with ambient soundscapes is available in the "Gadgets" tab of the Palette (in the "Other Gadgets" category).
Radios from the Palette can be controlled with Circuits (see the description of the Ambience Radio for more information).