Links to news archives: latest · 2021 · 2020 · 2019 · 2018 · 2017 · 2016 · timeline
December 22, 2016 - gribbly
Here's what's new...
Invite-Only games
Rec Room members can now create Invite-Only games.
As the name suggests, Invite-Only games allow you to play only with your invited friends. *So if you want to play in a controlled environment, this is how to do it!
To create an Invite-Only game, go to your watch and select the "Create" button at the bottom of the "Play" menu:
Once you're in your Invite-Only room, use your friends list to invite others!
The Lounge
There's a new space to enjoy in Rec Room! Welcome to The Lounge:
The lounge is an invite-only event room and hangout space suitable for all kinds of VR gatherings...
E.g., something we've been enjoying is Rec Room poker night:
The Lounge is Invite-Only, so you must be a member to create and invite your friends.
We think of this as "version 1.0" of the lounge. We want to hear your thoughts, recommendations and requests for how we can make it better! Don't forget to send us your feedback...
3D Charades
Enjoy a freeform game of 3D Charades with friends in The Lounge!
No rules, no timers, just a selection of random cards, and the 3D Pen to play with...
Let us know what you think! We know some people preferred the more freeform version of 3D Charades before we added the podiums, etc.
Paintball CTF tweak
The flag carrier now has a longer teleport cooldown, to make CTF games a little more competitive.
We did this in response to your feedback. Let us know what you think... Like it? Hate it? *Should flag carrier move even slower?
Whiteboards
We've added a fun new tool to Rec Room. The whiteboard:
Why would you want a whiteboard?
Draw a picture!
Keep score in a game you play with friends in The Lounge
Have a VR meeting!
Just as with The Lounge, we think of this as a version 1.0. Please tell us what you think, and how we could make whiteboards more useful for you.
For now, whiteboards are only available in The Lounge, and there's one in your Dorm Room.
Ghost mode improvements
We've made some more updates to Ghost Mode (some context here). Here's what's new:
Ghost Mode now happens quicker - press and hold the Menu button for one second (was two). *Or select it immediately via the watch menu.
Ghost Mode now works in selected games (3D Charades, Disc Golf, Paddleball). Previously, *Ghost Mode was disabled when a game was in progress. Ultimately we'll make it available in all situations, but that's going to take us a bit longer.
Ghost Mode long press now works even if you have something in your hand. Previously you had to drop the item first.
Thumbs up/down gesture
Show your (dis)approval with the new thumbs up and down gestures!
Change your display name...
We've added some features to the Rec Room Profile Page (accessible via any web-browser):
You can access your profile here!
Login with your Rec Room member name (or email) and password
You can now change your Display Name at any time!
You can also change your password, or issue a password reset if you forgot.
Find and make friends more easily...
Also from your profile page (accessible via any web-browser):
Click on "Friends" to see your friends list
Click on "Find new friends" to search for Rec Room members by name
Send a friend request with a single click!
You can now make friends with a guest (previously, both players had to be members). Just shake hands, and it should work =]
Tweaks and bug fixes
Rack space is now handled better when you have a lot of avatar items in the dorm room
Fixed bug where mystery item could appear in center of the room
Fixed bug where some players would receive empty boxes (sorry about that)
PS Yes we realize how ugly the profile website is =] We'll fix it next year.
Thanks as always to everyone who plays and provides feedback! Keep it coming =]
December 16, 2016 - gribbly
We've partied up with the good folks at Survios to create a fun event this weekend.
If you're Rec Room member, when you boot up Rec Room you'll receive SIX packages containing Raw Data-themed avatar items.
You can wear these items immediately, and yes you get to keep them!
NOTE: If you don't get the items, it's probably because you're not a member. Sign up (it's free) at one of the kiosks found in the Locker Room or Dorm Room.
What can you do with these items? Well other than look cool, there's also a prize drawing where you can win stuff:
Grand Prize (1 winner): Asus GeForce GTX 1080 graphics card and Raw Data game key
Runners-up (3 winners): Survios/Raw Data swag pack (Raw Data game key, custom Vive controller charging station, flash drive, t-shirt and notebook)
Third Place (5 winners): Raw Data game key
There are two ways to enter the prize drawing:
Dress up as either Bishop or Saija, then take a screenshot of your avatar and Tweet it to @Survios. Please include #FreeKeyFriday in your tweet!
Dress up as either Bishop or Saija, then visit woobox dot com/vsjbnk (sorry for weird formatting, Steam doesn't like this link) and enter the drawing via email.
December 16, 2016 - gribbly
PAINTBALL
Fixes for reported spawn camping issues in Quarry
Fixed issue where Quarry matches wouldn't count against daily challenges
DISC GOLF
Fixed a bad hazard zone where your disc could get stuck in an unreachable area
BUGS AND TWEAKS
We heard from many of you that the the "blinders" (darkening effect when you turn away from forward tha are intended to help orient you in 180 degree tracking setups), so we made it less intense and it starts "later" (at a larger angle).
We now default to 360 tracking for all configurations. You can switch between 180/360 any time in watch menu settings. In 360 mode you'll never see the blinders.
NOTE: If you are using Oculus + Touch through SteamVR, we strongly recommend you run the Beta version of Steam VR. To do this, find SteamVR in your LIBRARY (it's under "Tools"), right click, Properties, BETAS. Select "beta - SteamVR Beta Update" from the dropdown.
December 8, 2016 - gribbly
What's new?
PAINTBALL
New paintball map! Welcome to the Quarry!
New paintball gun! Sniper Rifle (complete with scope). Only in the new Quarry map.
Changed how paintball maps are accessed - there is now just one paintball door in the Locker Room (quick play to any map). You can choose a specific map in your watch.
Bug where it was possible to get a double score in CTF should be fixed. Sorry about that! *Note that this also fixes double scoring in Paddleball.
AVATAR ITEMS
Avatar items now come in packages that you rip open. Packages appear when you first enter a room. If you teleport away, the package will rez out (and re-appear next time you enter, you won't lose the item).
Avatar items can be worn immediately, or you can just touch them to send them to the Dorm Room ("item saved!")
Fixed a bunch of bugs with XP, levels, and item drops. Getting closer to a sane system =]
Added new items!
ACTIVITY TWEAKS
3D Charades - podium height can now be adjusted up and down (so you can play seated if you like)
3D Charades - fixed bug which was making cards less random than they should be! You should see a wider variety of cards now...
Disc Golf - fixed some incorrect hazard zones
Tweaks to matchmaking - you're now more likely to join other players
EXPERIENCE MANAGEMENT
Ghost Mode - very close players are even more translucent
Ghost Mode - nearby objects are ghosted as well as players
Ghost Mode - is now "mutual" (you look like a ghost to them)
Vote to Kick - you'll now get a notification on your watch when someone initiates vote to kick, plus players can no longer immediately return to a room they were kicked from.
MISC
There's now a membership kiosk in the Dorm Room
Trashcan hoops have VFX/SFX
Rec Room will now prompt you to update if you're running an old version
Fixed bug where you could lose all voice chat until you switched rooms
Fixed bug where looping sounds could get stuck on permanently
Cleaned up the watch menu a bunch
Cleaned up and improved invites and notifications. They are (hopefully) much more understandable now.
Made it clearer when friends are online vs. offline
OCULUS
Updated Oculus Touch controls to match Oculus defaults (hand trigger = grab, index trigger = use).
Fixed an issue where Oculus could default to the wrong mic
Interaction sounds are now muted when the Oculus System menu is visible
As always, thanks for playing and please let us know any feedback you have!
November 24, 2016 - gribbly
We just pushed another update with a bunch of polish and fixes for yesterday's features:
Fixed a bug and made handshakes much more reliable - Get to shaking and makin' friends!
Offline friends are now marked "Offline" in the friends list
Fixed an issue where screwed up member levels - oops.
Fixed an issue where we screwed up keeping your favorite outfit - oops.
Re-added grip rotate as an option in settings - not only that, you can now choose between "stepped" and "smooth" rotation. You're welcome =]
Tweaked ghost mode so that nearby ghosts are very translucent and can't bug you
You now hear invite notification sounds even if your watch menu is already open
You now see a badge when you have an invite in the menu
Added a NEW tag on newly unlocked avatar items
Huge thanks for your patience as we roll out all this stuff... we know we're changing a lot and there's a lot of rough edges. This is all much-needed foundation work as we go cross-platform and invite a new group of players into the world of Rec Room!
We read and appreciate all your feedback, and do our best to respond. We have lots of exciting stuff in the works that we can't wait to share with you!
November 23, 2016 - gribbly
Hey all,
Yesterday's update accidentally reset all members levels to 1. We just pushed a fix that restores levels to the correct value.
Basically we kept whatever was higher between your current level and your old level.
Apologies for the weirdness... as I've mentioned a few times we are making pretty major changes on our backend to prep for cross-platform launch. Please let us know if you run into any additional issues.
Scene from Against Gravity HQ: http://gph.is/1SBxnaD
November 23, 2016 - gribbly
What's new?
New handshake gesture to make cross-platform Rec Room friends! If you're a member, you can make a permanent friend connection with another member by shaking their hand! Guests can shake hands too, but it won't make a friend connection.
New cross-platform friend system - soon you'll be able to be Rec Room friends with Oculus Touch owners!
New invite system. Send any friend who is online in Rec Room an invite via the Watch UI. If they accept, they'll immediately join you. NOTE: UI is first pass, we'll be patching this soon to be easier to understand.
New avatar system is live - you'll get to keep your current outfit (if you're a member), but otherwise you'll be reset to Level 1. Avatar items are now tied to leveling up.
Level up by earning XP - you get XP for logging (once per day), completing games, completing daily checklist items, and other stuff. Love to hear feedback on how the pacing and progression feels.
Watch menu is now detachable - when the watch menu is visible, press the Menu button to detach the watch UI from your wrist. This makes it possible to use the menu with one hand again. It also avoids fatigue if you need to spend a long time in the menu.
New rotation options - we heard your feedback on the swipe rotation and made some additional changes. In the settings, you can now choose a 45 degree increment (much easier to get the rotation you want), and you can disable the swipe to rotate entirely. Let us know what you think... we are not totally against bringing back grip rotation if people really want it!
100+ new avatar items and variations - with lots more on the way. Of course, you gotta unlock them =]
New game show music for 3D Charades.
Updated tutorial VO.
Updated help clipboards so they no longer have stale info!
IMPORTANT!
This update temporarily removes leaderboards. These will come back soon as true cross-platform leaderboards in a future update. We saved the data from the Steam leaderboards, and will display these as a "Hall of Fame"!
Thanks as always to everyone who plays and who provides feedback, whether positive or negative.
We encourage you to become a member! It's free! Just find a kiosk in the Locker Room... Members can make friends, level up and unlock the coolest items, and send/receive invites. Private rooms are coming soon, which will also be a "members only" feature.
November 16, 2016 - gribbly
We just pushed a patch update:
New avatar system is live - this is mainly an "under the hood" change preparing for next week's major update. Please check this post for details of the impending changes to the avatar system and how to keep your outfit: https://www.reddit.com/r/RecRoom/comments/5cc8r7/important_impending_level_and_avatar_reset_and/
tldr - make sure you're wearing your favorite outfit by the end this week! (Before the next update)
If you're wondering how to get to Level 2 to become a member - the answer is "complete the daily challenges". We've temporarily made the challenges easier and the XP rewards higher so it's easy to level up this week!
Fix for long load times (and occasional loading failure) into Paintball:Homestead. Please let us know if problem persists!
We are reading all your feedback in the forums, and I wanted to call out feedback on the new rotation mechanics. We are hearing you loud and clear, and bringing back "grip rotate" is a possibility. It won't be in next update - please try the tweaks to the new system and let us know if you still want grip rotate!
As always, thanks for playing Rec Room and providing feedback!
November 11, 2016 - gribbly
Hi all!
tldr - we need to reset everyone's level and avatar items soon! To avoid this and to keep avatar items you really care about, become a member NOW
I've started a reddit thread to discuss this here, as there are quite a lot of details and we want to make sure everyone understands what's coming: https://www.reddit.com/r/RecRoom/comments/5cc8r7/important_impending_level_and_avatar_reset_and/
November 9, 2016 - Cloud
OK we've been teasing some "big announcements" for a while. Here they are!
1) Rec Room is going cross-platform. We'll have more to say soon but the tdlr is that Rec Room is coming to Oculus w/ Touch. We've been testing it out and it works great. This means existing Vive players will get many new players to splat with paintballs, befuddle in Charades, and defeat in disc golf.
2) Announcing Rec Room memberships. Membership is free and optional. Go through our (hopefully) rather delightful signup process by finding a kiosk in the Locker Room.
Why would you want to become a member? Oh baby...
Private games (COMING SOON) - members can create and invite each other to private games. So if you want to play with just specific people, you can do that (as long as you're all members).
Cross-platform friendships (COMING SOON) - we've been relying on Steam's backend for friends, etc. But since we're expanding to Oculus (and beyond...) we need to support cross-platform friendships. So we've been busy standing up our own system for that.
New "selfie" user pic - update your selfie at any time using the kiosks in the Locker Room.
Secure your Rec Room username! Do you want to be 'gribbly' or 'gribbly_87'? We support display names, so you can set your visible name to whatever you want (consistent with our code of conduct). But you know it's cool to have a rad username too =]
3) New watch menu - we've migrated the Rec Room menu to be a cool smart watch! Rather than pressing a button, just look at your wrist.
This is v1.0, it's a little clunky (e.g., you still have to use the laser pointer, and you can't use it one-handed). Expect improvements to this over the next few weeks.
4) New ghost button. We've sometimes hear reports that players receive unwanted attention and feel crowded, mobbed or otherwise uncomfortable in Rec Room. I've had this experience myself :-/ Whether it's just over-enthusiastic people who don't realize they're too in your face, or someone actually being deliberately creepy, it's no fun. Behold the ghost button:
The new ghost button is designed to (a) be quick and easy to use, and (b) immediately create breathing room to figure out the situation without someone waving objects in your face or saying inappropriate things at you.
To activate ghost mode, use the watch menu (as shown in the GIF), or press and hold the menu button for two seconds.
Ghost mode currently works in the lobby and pre/post game. It does not work during a live match.
All of this is live!
Some additional notes on memberships:
This is a "soft-launch" of memberships. Only players Level 2 or higher can sign up right now.
You'll need to provide a working email address to become a member. We won't spam you!
Private games and cross-platform friendships are actively being developed, but won't be available in this update. They are COMING SOON.
As always, thanks for playing Rec Room, and please continue to provide us with any feedback you have positive or negative. We read it all!
November 4, 2016 - gribbly
Just pushed a patch release that should fix:
1) Invincible players in Paintball - this one took us a while to reproduce, but we are pretty confident we squashed it. If you see any invincible players, let us know!
2) Some conditions where parties could get stuck in "black world", or forcibly separated, when going to an activity (especially Paintball Homestead).
Note that due to some new lighting stuff, Paintball Homestead is taking 10+ seconds to load the first time you go there. Please be patient! We don't have any animated feedback to show you it's still loading, so give it at least 10 seconds and it should work.
As always, please give us any feedback positive or negative either here on Steam, on Reddit at /r/recroom, or on twitter @againstgrav!
October 28, 2016 - gribbly
We just pushed a minor update that:
1) Should fix the "invincible player" issue in Paintball
2) If you go to a paintball match that is in-progress, you will auto-join the match
3) Fixes issue where soccer ball wouldn't spawn
Please update to get the latest!
October 26, 2016 - gribbly
Update just went live! Here's what's new:
Practice mode - if you're the first person to join an activity, you can now practice the mechanics (e.g., shooting paintball gun, throwing a dodgeball, etc.) while you wait for other players to arrive.
Improved disc golf throws - thanks to feedback from players, we found and fixed a couple of bugs in the disc golf physics. Throwing and curving should be much more consistent for everybody now!
New water shader that looks cooler and more "Rec Room"
New and improved lighting in Paintball: Homestead. Everyone tell Cloud they love it so he'll be happy.
CRITICAL FIX: Trees now shed leaves when you throw a disc into them! Previously literally unplayable, this game-breaking issue has now been addressed.
Lots more in the pipeline... as we've mentioned a few times we've been doing a bunch of important work to set up for some really cool new features coming soon. Thanks as always for playing, for providing feedback, and for being excellent to each other.
Have fun out there!
October 18, 2016 - gribbly
3D Charades updated - a new format designed to (a) reduce chaos, and (b) ensure everyone gets a turn with the 3D pen. We've found this to be a bunch of fun in our internal tests, please give it a go and let us know what you think!
Fix for paintball "shoot the gun for points" exploit
Improved scoreboards - these now more clearly show the game state, and you can view results from the previous game for as long as you want.
Updated notifications - to look better/more consistent. Still lots of tweaks needed to get wording to fit... sorry typography nerds... the scoreboard is terribad as well :-/
New audio for various tools - paintball guns, shields, water bottles, 3D pen
Optimizations - both network and performance
Bug fixes
New avatar items
October 13, 2016 - gribbly
Hey all,
This weeks update is running a bit late... we have a nasty bug related to a performance optimization that is taking us a while to run down!
Plus it's Steam Dev Days this week which means a couple of our peeps are out having fun and learning cool new stuff!
Hope to be ready soon... BIG 3D Charades update coming...
October 6, 2016 - gribbly
Hey all,
We just pushed a new update! Here's what's new this week:
Fancy new projector scoreboards - all the activities feature fancy new scoreboards that (we hope) do a better job of letting you know what's happening with the game.
Disc Golf improvements - we've done more polish on Disc Golf, and it really benefits from the new scoreboards. There's now scoreboards at each tee, so you can track your score at each hole! In our testing this has made the game a lot more fun.
Disc Golf mercy rule - Disc Golf now has a mercy rule... if you get to +7 on any hole you'll be automatically advanced to the next hole.
New intro tutorial for first time users - the first time you launch you'll get a tutorial in the Dorm Room that walks you through the basics of teleporting, grabbing stuff, and using the menu. This includes a new layout for the Dorm Room.
New notifications - we did some work to ensure that notifications are always visible, not matter what you're doing.
As always, lots of tweaks and bug fixes! Look for updated textures, etc. The new discs in Disc Golf are awesome!
Please note that this update rolls out a huge "under the hood" revision of our activity system. Overall it is much cleaner, and it sets us up to add new stuff much more easily moving forward. However, it's possible there's new bugs and weirdness. In our testing it looks pretty clean, but please stress test everything and let us know if anything breaks!
Keep the feedback coming, and thanks for playing Rec Room!
October 4, 2016 - gribbly
Some players have been experiencing a crash when they leave the Dorm Room.
If you're getting this, here's a workaround to try that should fix the issue:
1) Start Rec Room
2) Don't leave the Dorm Room
3) Open the menu (press the Menu button)
4) Go to Settings-->Advanced
5) Make sure the "Enable Video Cameras" box is unchecked
6) Close the menu
7) Now you can leave the Dorm Room and you shouldn't crash
Several players have reported that this fixed the issue for them. This will have the side effect of disabling the video cameras in Rec Room... that's why it's a workaround and not a permanent fix! We are looking into the real solution.
Thx for all the feedback, please keep it coming!
September 29, 2016 - gribbly
What's new this week?
Announcing /r/recroom! - Thanks to the kindness and generosity of some fellow redditors, we're excited to share that /r/recroom is now the official reddit home for Rec Room discussion! We'll keep /r/againstgravity for company stuff (like what? No idea =]) but migrate Rec Room announcements, discussion, etc. to /r/recroom. Come join us! We'll be checking the sub daily (at least).
Lots of new avatar items! - We've had lots of requests for more feminine items so today's update includes lots of dresses, hats, hairstyles, and more! We think these look really cool! Check 'em out: http://imgur.com/MKBWLJQ http://imgur.com/Vi1A00M
Vote Kick improvements - We got some good feedback, and have now made it much less likely that someone you've vote kicked will re-appear in your game. More to do here, but this should help a lot!
Fixed issue with mute/ignore - Press and hold menu button to show laser pointer. Target someone and release menu button to open their player menu, where you can mute, ignore, or access their Steam profile. Note: Seems like this is only working when you target the other player's head? It should be the whole body... let us know if it works for you.
Fix for 100% crash - We've had reports from some people that they are experiencing crashes. We think we've isolated the problem to the video cameras... if you're experiencing a crash, please go into Settings-->Advanced and uncheck "Enable Video Cameras". If you still crash after that, let us know!
While we're chatting, let's talk a little more about avatar items. Basically, we have good news and we have bad news =] Let's start with the bad news:
In a couple of weeks we're going to reset avatars and levels, and you're going to lose access to most of the avatar items ಠ_ಠ
Why would we do something so cruel? Well, it'll be synced to the roll out of a proper Rec Room profile, which will be optional, free, cross-platform and is intended to be your "real" Rec Room profile that you can keep forever. You'll be able to choose a Rec Room-specific username (so if you want your special three character nickname, jump on it when we announce). Once you have your real profile, you'll be able to unlock items by playing. So more experienced Rec Room players will have more and cooler avatar items than newbies. That's how we want it to work, so we gotta reset the current free-for-all. Sorry!
I promised good news! Here's what we're thinking:
Keep your favorite outfit - When we roll out the update that contains the new profiles, we're going to let you keep whatever you're wearing. So if you have a favorite outfit, make sure you're wearing it that day and we'll grandfather that outfit in. So you can keep your look. New players will have start from scratch.
Early adopter item - to express our gratitude to all of you early players we are planning to make an avatar item that is only available to pre-profile users. Newer players won't be able to unlock or buy this item. It's for OG Rec Room players only. We haven't decided yet what the item will be! If you have ideas/requests, let us know...
OK I think that's it. As always, thanks so much for playing Rec Room, for helping each other out, and for providing feedback both positive and negative. We really appreciate it, and we can't wait to announce some of the exciting stuff we have in the works. In the meantime, keep enjoying Hole 5: http://imgur.com/CEaWtbI
bwahahahahaha =]
September 20, 2016 - gribbly
Major Disc Golf overhaul (week one) - we've expanded Disc Golf to a full nine hole course. Also added curve to disc physics... you can now curve your throw (deliberately or accidentally). This adds a lot of challenge/difficulty! Many other small tweaks and fixes. Please try it out and give us feedback - we are planning to do more work on Disc Golf for next update, so now is a good time to let us know what you like/don't like! Please note we haven't tackled some known scoring bugs and exploits in Disc Golf yet, we'll hit those in the next update.
New darts and dart board in the Locker Room. Added some polish to the darts. Don't worry Dart Science people, you can still do Stupid Physics Tricks with them =]
Video camera now records audio - this was a much-requested feature, and we're happy to be able to add it today! Now when you use the handheld video cameras, the output file on your PC will include the game audio (including voice chat
Tweaked paintball shotgun to have slightly longer range
September 15, 2016 - gribbly
We refreshed the daily challenges - and made most of them less demanding... If you haven't checked them out, have a look in the menu!
September 13, 2016 - gribbly
Quick announcement to let everyone know that we will not be doing our usual weekly update this week.
Why!?!?
We're taking a week to work on some low level systems to lay the groundwork for some (hopefully) exciting announcements in the near future.
We're not planning to abandon our usual frequent updates, but we will need to take the occasional week off to make sure we're not accumulating too many bugs, and to ensure our systems will let us continue to build new features.
So we may push a minor update to touch up a few issues, but we won't be adding major new stuff this week.
Thanks to everyone for playing and providing feedback! We love it and encourage you to continue hit us with comments positive and negative. We try to be very conscious of what the players want, so we always want to hear it.
How are we doing? What are we doing right and should do more of? What are we doing wrong and need to fix?
September 7, 2016 - Cloud
Rec Room update is live. Here's a preview of what's included:
Paintball Shotgun - this guy may not shoot far, but it feels reallllllly good to shoot stuff with it: http://i.imgur.com/D6XI6LU.gifv
Paint Grenade - don't hang on to it for too long... http://i.imgur.com/AaLr5sA.gifv
Shields - OK, so the water jug shields were a little OP. We added a smaller shield to paintball so it is a little more balanced. You can't cover your whole body with it so you will have to actively use it for cover. actively use it for cover. [dreamgifs5.files.wordpress.com]
"Motion Teleport" option - We are testing out a new teleport experience! It's pretty rad and has been fun for paintball (note: it doesn't change game balance). You can access it in your settings menu. Please let us know what you think!
Basketball - We added a basketball that actually works now! Who has the best three pointer?
Additionally, we are removing the standard headphone jack from Rec Room. For $199 we'll ship you a proprietary adaptor for your existing headphones, or for just $399 (plus shipping) you can order our "Beats by Gribbly" RecTooth headphones. We appreciate your business =] (Jokes! We love you Apple =])
Thanks as always to everyone for playing and providing feedback. I'm glad to be back and look forward to seeing you in Rec Room!
August 30, 2016 - Cloud
Rec Room update is live! Here's what new this week:
Rec Room levels up! Check Rec Room every day for new challenges from Coach. Complete them all to earn XP and level up your Rec Room Avatar! This is our first step towards a persistent Rec Room profile. Expect more in future updates!
Removed paintball blindness. If you have personal bubble set to on from your settings menu (on by default), paintball splats will not show on your face during pregame or from your team mates. This is to prevent face painting. We heard your feedback, let us know what you think! http://i.imgur.com/Sw3jB8W.gifv
Vote to kick ratio has been lowered! We have adjusted the ratios to kick an offending person from the room. We still aren't done with this, but hopefully this small adjustment can help as we develop better moderation tools.http://i.imgur.com/r6tYa0A.gifv
The VR World Championships finished! Big thanks to over 120 athletes who competed! Congrats to Purple Cobras, Shaolin Soccer, and Great (Paint) Balls of Fire! We learned a ton and can't wait for the next tournament! Check out the trophies in the locker room. http://i.imgur.com/tMgyxSC.gifv
Bug Fixes:

Fixed an issue that caused multiple Dodgeballs to spawns.
Extinguished a few permanant on fire dodgeballs. If you still see these let *us know if you find a reliable way to create them.
Grip rotation increment reduced. Also reduced rotation blur effect.
August 27, 2016 - Cloud
It was a crazy intense battle!
Everyone's paintball skills were just on another level! A few bugs and players crashing, but all and all these players made the game amazing! Congrats to "Great (Paint) Balls of Fire" Prosfis, Locke504, and Pupsicle! "PB All-Stars" ([KOD]Ðestroyer™, Charles UFC, space sloth) did an amazing job and nearly took the title! It was best 2/3 and the last game resulted in a tie leading to a sudden death. "Great (Paint) Balls of Fire" pulled through and swept the series! Members (Pupsicle, Locke504, and Lemming) Also swept the Dodgeball championship and Shield Soccer championship in an intense set of matches! Congrats to everyone that competed making this an incredible tournament! Over 120 people competed in VR!
http://i.giphy.com/Rj4le68fVPDq0.gif
August 24, 2016 - Cloud
Rec Room update is live! Here's what new this week:
Let the games begin!
New Paintball Map! http://i.imgur.com/1BDD6Tf.gifv We're having a great time with Paintball, and we know our players have been asking for more, so today we're adding a BRAND NEW MAP! Head over to the new Homestead paintball map (through the new activity door in the Locker Room, or the second paintball icon in your Remote Menu), and let us know what you think! Feedback is much appreciated! http://i.imgur.com/S6yKB0p.gifv http://i.imgur.com/hExkOf8.gifv The new map supports both Capture the Flag and Team Battle modes http://i.imgur.com/3ZDqhDz.gifv The original paintball map, River, is still accessible via its own activity door in the Locker Room or the Remote Menu.
DodgeBall polish. Getting ready for the tournament so we did a bit of gym cleaning.
Shield Soccer polish. Same as above :smiley:
Paintball polish. Paintball bullet wasn't perfectly coming out of the center of the gun, but it is now. :smiley:
Tournament Infrastructure. Laying the ground work so we can host and manage tournaments! This is all the back end work to make the tournaments work nicely, this is still rough, but a good starting point.
Dark world. Did some more work to prevent people from getting stuck in the Dark world, If you ever get stuck please reach out and let us know!
The VR World Championships Begin!!!
I hope Coach's training has paid off because the game are officially starting with Dodgeball today! (8/24/16 6-9pm PST).
Shield Soccer will be starting (8/25/16 6-9pm PST).
The crowd favorite Paintball will be starting (8/26/16 6-9pm PST).
How is all thing going to work?
If you are competing in The VR World Championships you should have gotten an email. (sending them when this post is 2 hours old) If you haven't then please check or email me (Cloud@againstgrav.com). Log on before the matches start 6pm PST!
August 17, 2016 - againstgravity
Rec Room update is live! Here's what new this week:
The Virtual Reality World Championships
Today we're announcing our first official tournament, which we're rather grandiosely calling The Virtual Reality World Championships!
Something that's been truly inspiring to us as we make Rec Room has been welcoming players from over 130 countries. That got us joking around about being the "world champion" of paintball, or whatever. And then we thought... wait a minute... what's stopping us from... alright let's do this!
Full details and signup sheet are here: https://www.againstgrav.com/blog/
But the short version is:
Events will be 3v3 Dodgeball, 3v3 Shield Soccer and 3v3 Paintball.
Sign up is this week, championship games will be held next week
Slots are limited so if you want to be a competitor, get on it!
The winning teams will win a limited edition, never before seen, and in fact not-yet-designed or ordered Rec Room t-shirts =] (Note: It'll likely take at least a month or us to ship these to you)
Tournament games will be held in private rooms, so yes part of this is us laying the groundwork for better match-making and friends support. It's coming. We also want to learn what it's like to host a VR tournament. This is the first time we've done this so we expect to learn a lot. Please remember we're still in Early Access, so there will be bugs and rough edges along the way. But it should be crazy fun!
OK what else...
More fixes for the "dark world" problem - over the weekend many players got stuck while trying to load into games. This was, of course, terrible. We believe we have fixed it. Please let us know if you get stuck!
Dodgeball improvements - as part of getting Rec Room ready for the Virtual Reality *World Championships we are giving Dodgeball some love. Tightening up the physics, rules, and feedback to make it more comprehensible and (hopefully) more fun.
Shield Soccer bug fixes - we got some bug reports on Soccer (thankyou!)... we squashed the major ones. Please keep 'em coming!
Lighting Improvements - making things more purty.
As always, thanks for playing and let us know what you think. Housekeeping note, I will be traveling over the next two weeks with somewhat spotty access to network. I'll make sure some other Against Gravity devs are on deck to field questions.
August 14, 2016 - againstgravity
We pushed some server changes which we hope/pray address the "getting stuck in black world" problems many players were experiencing.
PLEASE make noise if you continue to see the problem... we are not 100% confident that we fixed it, so we need your feedback to know!
Thanks for your patience, and for playing Rec Room!
August 13, 2016 - gribbly
We have received some reports of players getting stuck in "black world" (i.e., pitch darkness) when transitioning between levels.
Sorry about that! We are investigating. We have seen it a couple of times but don't have a reliable repro yet (so it's hard to fix).
If you have a reliable way to make it happen, please let us know here on Steam or the AG subreddit.
Thanks!
August 11, 2016 - againstgravity
Today's update just went live. What's new this week:
Vote to kick - thanks for the great feedback and insights on moderation (or lack thereof). We are actively designing here and would love to keep hearing reports, suggestions, praise and complaints. Conduct@againstgrav.com. This week we are shipping an experimental "vote to kick" feature. This has been suggested and requested many times, and we agree it's a good idea to try it out. Here's how it works:

Hit the MENU button to bring up the player list.
Find the player you wish was gone.
Hit the "Vote Kick" button with the laser pointer and pull the trigger
You will see your vote appear right on the button.
If a clear majority of the people in the room do the same, the person will be kicked to the Dorm Room. It's then hard (but not impossible) for them to join you again.
Please be aware that we think this UI is clunky and hard to discover. We have a plan for improving it, which likely involves the...

Handset menu - we're improving the handset you carry (that's the yellow thing that appears in your hand when you teleport). We're looking at using this more to provide info and functionality - please tell us what you think, and what would be useful to you! Here's how it works:

In games (e.g., Paintball), you can look at your handset to see current score and time remaining in the round. To do that...
Press and hold THE BIG BUTTON (i.e., teleport button) for ~0.5 seconds to see the handset menu

New activity: SHIELD SOCCER!

Use your teleport (and your hands and shield) to hit an oversized soccer ball into the goal.
There is a team-colored "no go" zone in front of each goal, for fun matchups between offense and defense.
Be on the lookout for the boost pickup which increases your hit strength and gives a speed advantage. Pull the trigger to activate it!
This is UNDER CONSTRUCTION, but we've been having fun with it and wanted to start getting feedback. Do you like it? Is it fun? Should we spend time improving it?

World rotation v2.0

Press and hold both grip buttons and make a "steering a bus" motion to rotate the world around you!
Yes, this is very similar to Pool Nation VR - the difference is that we "blink" rotate in 45 degree increments rather than continuous rotate (which should eliminate motion sickness for those who are sensitive)
The other method of world rotation (press and hold both teleport buttons) is still there too... what do you think - should we keep both? Or choose one?

What else happened this week?

You can now spin the zero-G clothing rack in the Dorm Room with your hands
New, cooler looking handset when you teleport/laser point.
Updated lighting for 3D Charades, Paddleball, Dodgeball, and locker room.
You now spawn with the pen in 3D charades - so no rogues can steal it from you and draw genitalia
Fixed some issues with paintball spawning which should reduce the incidences of "late hits" from players you just splatted. With high ping there may still be some weirdness, but we fixed an actual bug.
Fixed more paintball gun spawning bugs - please continue to let us know if you spawn without a gun
Fixed some nasty bugs that were causing leaderboards to be wrong. Sorry about that. **As we keep saying, don't get married to your stats to much while we're in Early Access. We are gonna have bugs and need to reset things a few times.
August 3, 2016 - againstgravity
Today's update just went live! What's new this week:
Performance improvements - especially in paintball but also lots of across the board fixes.
New avatar items - lots of new hairstyles, including lots of ladies hairstyles!
Revamped menu - simplified and streamlined, experimenting with a new look.
Tooltip system - helps simplify the menu and make other game systems a little easier to explore and understand
Bulletin board with movable items in the Dorm Room. Message of the Day now appears here. Try moving things around! If you're wondering why we did this, the reason is that it's foundation work for the progression system we're planning. We want to be able to manage a bunch of stuff in a room-scale way, without digging through the menu. The bulletin board will be a big part of that.
New lighting for Dorm Room, Charades, and Locker Room... with lots more coming. This both looks better and helps performance.
Pitch adjustment for voice chat - you can now optionally make your voice a lower pitch.
Reduced build size which means smaller download size, faster loading, etc.
General improvements and fixes all over the place - lots of bug fixes in paintball!
We are super grateful to everyone who is playing and sending us feedback, we love it! Please keep it coming.
If you want to support us, consider leaving a review on Steam. It helps other people find us, which is super important for a social game!
July 28, 2016 - againstgravity
This one is mainly patching Paintball bugs:
1. Fixed a memory leak that would cause performance to degrade over time
2. Fixed some teleport bugs that could allow you to teleport immediately (bypassing the cooldown) in some circumstances
3. Fixed flag bugs that could result in the flag being impossible to pick up
4. Fixed a bug that could cause you to spawn without a paintball gun
5. It takes less time to spawn into new locations (including when respawning in Paintball)
6. Some visual polish to paintball map (making red and blue ends a bit clearer)
Also:
7. Added a 3D pen to the Dorm Room because why not? =]
Have fun! And keep the feedback coming, we really appreciate it!
July 26, 2016 - againstgravity
Thanks for playing Rec Room! If you're enjoying it and want to support us, consider leaving us a review. That will help other players find us, and the more the merrier right? =]
Tonight's update adds:
Paintball - new "Team Battle" mode. Less flag capturing, more straight up paint splattering! Choose between the modes from the scoreboard in the start area.
Paintball - leaderboards!
Paintball - you now spawn with a paintball gun
Paintball - paintball guns now "autolock" to your hand when you pick them up
Paintball - many other small improvements (and likely new bugs... please keep the feedback and bug reports coming, it really helps)
You now get your own Dorm Room. You'll start the game there (next week we plan on getting rid of the weird "terrain with a door in it" world at the start). It's super basic and pretty rough right now (we'll clean it up a bunch for next week's update). So it's filled with moving in boxes! But we'll be building this out as a way to support a bunch of new stuff in the future (e.g., managing private games). Feedback pls! Note: The Dorm Room replaces the Changing Room - RIP.
The Zero G wardrobe - as we continue to add more and more avatar items (and yes, we've heard the requests for more female-friendly items!), we realized we needed a way to browse your items that would scale up better. So we created the zero-G wardrobe.
Some new avatar items!
Also added a few things that lots of people have asked us for:
Push-to-talk - is now an option for those who prefer that style of voice chat. Check Settings in the menu. With push-to-talk enabled, hold the grip buttons to enable outgoing voice chat.
Visible chaperone center - There's now an option to always show a marker in the center of your chaperone. Check Settings in the menu. As a reminder, it's worth checking through the Steam VR Chaperone settings too... lots of different render settings you can tweak to make your chaperone more (or less!) visible.
Quality options in Settings menu - adjust graphics settings on the fly. If you're getting frame drops, try dropping a quality level. (We're not done optimizing by any stretch, but this might help in the meantime)
Teleport beam now bounces off vertical surfaces, make it easier to teleport near objects (e.g., cover in Paintball)
Improvements to "rotate world" mechanics (entire chaperone rotates when you hold both teleport buttons)
Oh, two last things:
1) We are still collecting videos for our new trailer. We've received about 30 submissions so far, which is awesome BUT WE WANT MORE! What can we do to get the juices flowing here? Feedback and ideas welcome =] Submit here: http://blog.againstgrav.com2) We set up a new email alias: conduct@againstgrav.com. If you encounter behavior that violates our Code of Conduct, we'd love to hear about it. Appreciate any feedback, large or small, detailed or a quick "this happened". We remain committed to making Rec Room a great place for everyone who wants to play.
Huge thanks to everyone who's playing and sending us feedback. We hope you're enjoying the game as much as we are enjoying making it!
July 21, 2016 - gribbly
Please update to latest version, which addresses a bunch of issues in Paintball:
Fixed exploit where you could clip through walls (gun won't shoot if you're clipping through geometry)
Adjusted spawnpoints and added cover to reduce spawn camping - still more work to do here, but it's a bit better!
Spectators can no longer kill players/take flags/otherwise mess up the game
Made it much easier to pick up the flag!
Fixed some issues where flag could get stuck in weird states
Added "out of bounds" time limit to prevent people from leaving the game area
Reduced AFK kick timer in gameplay, so players removed sooner if they go inactive
Fixed a couple of other exploits that you guys maybe hadn't figured out yet =]
July 20, 2016 - gribbly
New activity: PAINTBALL! Play up to 4v4 team capture the flag. We've had so much fun developing this. We hope you enjoy it too!
Leaderboards - currently only for Paddleball, but now that we've got the framework in place it should be easy to add more. As well as the all-time leaderboard, there's a weekly leaderboard that will be cleared with every Tuesday update.
Achievements - we've added a bunch of achievements!
(Note: Remember we are Early Access. We may need to reset achievements, leaderboards, and stats before full release. Don't get too attached just yet!)
New avatar items
Major performance improvements
We unbroke visual quality (shadows were broken again) =]
Found and fixed some big bugs. You should see less failed connections and "getting stuck in black world" errors.
As always, please send us any feedback you have. We love suggestions, ideas, and bug reports.
July 14, 2016 - againstgravity
Want to be a part of Rec Room history? Help us make a new trailer! We believe a social game should have a social trailer:
Capture footage using the in-game Video Camera
Find your clips in <user folder>\Documents\RecRoom\
Go to http://blog.againstgrav.com and upload your best clips to us!
Thanks, and thanks for playing! As always, if you have feedback for us, we are listening.
July 13, 2016 - againstgravity
Just pushed this week's big update.
If you'd like to support us, please add the user tag "VR" to Rec Room. That will help people find us by searching!
Here's what's new:
Performance improvements! This has been a focus this week, as we got several reports of poor framerate. We've optimized a bunch of stuff, so things should smoother for you. Let us know if that is not the case!

We have some other perf improvements in the pipeline too... e.g., we are currently investigating switching to Valve's "The Lab" renderer.

"Mute Me" gesture - we got a lot of requests for a way to quickly mute yourself in case you want to cough, talk with a roommate, or yell at a pet. So now you can mute your mic temporarily by putting your hand over your mouth! It only works with an empty hand. Try and let us know what you think.
More improvements to 3D Charades - the artist is now guaranteed to get the 3D Pen at the beginning of the round. Also, the giant scoreboard behind the stage is hidden while the artist is actually drawing, which looks a lot better. While we don't think this is absolutely finished (we are planning more improvements for all the activities over the coming weeks), we feel it's solid enough to remove the "Under Construction" designation. So… woo!
Video camera - in addition to the GIF camera, we now have a camera that outputs video files (.mp4 format). Why? (A) it's fun! (B) We want to ask your help with something... (more info soon)
New players start in the Changing Room. Lots of people wanted to customize their avatar before "entering the world". Plus some players had an overwhelming experience entering a crowded locker room without knowing how to do simple things like "pick something up". So we've made it so new players start in the Changing Room. And actually this is the first step in some larger changes to the Changing Room, and how the game starts… more on that later.
Two new settings to help you avoid certain behaviors (like mobbing). From listening to feedback we've come to understand that people have different tolerances for personal space, etc. So today's update adds settings for:

Teleport Buffer - this determines how close people can teleport next to you. The distance can be Small, Medium, or Large. Default is "Medium", which is a little further than what it has been, but still close enough to fist bump! If you like the current, closer setting, choose "Small". If you really don't like feeling crowded, choose "Large".
Personal Areas - this is basically an "anti-groping" feature. With this enabled, people's hands will simply disappear if they try to touch an area you don't want touched! Hopefully this will be like a spam filter in your email… you shouldn't really notice it under normal circumstances. This setting can be disabled if you like, which just means no-ones hands will disappear for you, no matter where they go.
Note that both "Teleport Buffer" and "Personal Areas" are suspended during actual gameplay (e.g., while you're playing dodgeball).

Some new avatar items - not too many this week, but we're ramping up production on this, so expect more next week.
OK that's it for today! Thanks for playing Rec Room, and keep the feedback coming!
July 8, 2016 - gribbly
3D pen no longer disappears
Fixed issue where you'd get a straight line attached to one end of your drawing
Fixed issue where drawings could sometimes look messed up for people joining 3D Charades mid-game...
Many thanks to players for reporting issues, sending gifs, etc. Super useful!!! <3
July 7, 2016 - againstgravity
We just pushed a major update to Rec Room! Please make sure you're updated to the latest version =]
3D Charades - we've had a lot of requests for lower intensity activities with time to chat and socialize, so please give this a try and let us know what you think! From our internal testing it is incredibly fun. We hope you like it too! It is marked "UNDER CONSTRUCTION" because we don't think it's finished yet. But it's ready for testing and feedback.
New Theater environment - which is where you play Charades.
3D Pen - this tool is used to play 3D Charades. You can draw anything, and it will turn into a physics object that you can use to act out your charade.
New Activity Lobby - as an alternative to digging through the menu, there are now doors to the activities at the rear of the locker room
Voice chat volume should now have correct falloff
Improved People Menu that shows more info, shows who is talking, and allows you to invite Steam friends (more on this below)
This update is synced with our new code of conduct. The full text is on the Store page, but some highlights:

Kids under 13 are not allowed.
No sexually explicit language or behavior in public areas (e.g., the Locker Room that you start in)
Overall people are being really cool, but we have seen some less-than-cool stuff like mobbing of female players (not cool!), sexist/racist language (not cool!), deliberately making loud noises over voice chat (not cool!). First of all, if that's you... please don't? Secondly, if you see people doing stuff like that, gently point them at the code of conduct. Thirdly, we've made it easier to mute and ignore players who are being annoying...

New and improved mute and ignore shortcuts - press and hold MENU button to force the laser pointer to come up. Point it at a player and release the button. Try and let us know what you think.

If you want to mute yourself, that is now in SETTINGS.

By popular demand: Support for Steam friends in Rec Room

Send new friend invites
Find and join friends who are playing Rec Room
Ping friends who are online but not playing Rec Room - they can single click to join you
This is a new system and will need testing and tuning... help us out by using it and reporting any weirdness.

AFK players are now removed from games/hidden from view
Mouse and keyboard players can no longer join
Bunch of performance optimizations - perf should be a bit better (still lots to do here)
Lots of tweaks, including many requested by you! Yes YOU SPECIFICALLY! E.g., there's now four ping pong paddles in the locker room, there's a single-player ping pong table, there's a camera upstairs, there's a boxing dummy in the Changing Room (someone wanted to shadow box =])... and lots more.
Please come check out the latest stuff and give us feedback!
July 1, 2016 - againstgravity
We just pushed a minor update!
Chaperone boundaries shown when teleporting
You can now rotate when teleporting - useful when playing in smaller spaces. To do it, press and hold the teleport buttons on both controllers, then move your hands to indicate the angle
Fixed some crashes
Should update automatically. Please keep all the great feedback, bug reports and suggestions rolling in.
We are hard at work on a larger update that should drop next week. Stay tuned!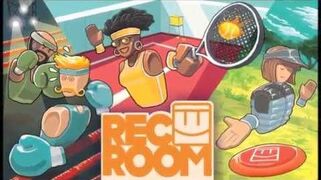 June 30, 2016 - againstgravity
We're in the process of getting community stuff set up, making the dev team moderators, etc.
We are reading and appreciating the feedback, bug reports, etc. Thankyou!
We will be responding soon!

Links to news archives: latest · 2021 · 2020 · 2019 · 2018 · 2017 · 2016 · timeline