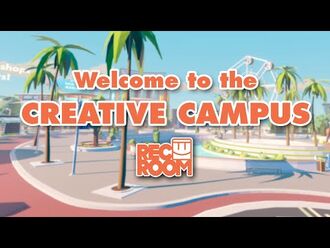 The Maker Pen Community is not an organized user group but rather a group of Rec Room players who enjoy using the Maker Pen. These players are often referred to as "creators." See Featured Rooms for some of the best rooms that players have created.

Events and Discord Servers
See the official events page for recurring events organized by Rec Room (Maker Pen Class, Circuit Thinktank, etc.)
There are a couple of discord servers to discuss creating with the maker pen and organize events:
#building, #circuits-v1, and #circuits-v2 channels of the official Rec Room Discord . "RR Creative" team are employees of Rec Room Inc. The "Creative Advice" group are trusted players who are happy to answer questions about creating with the maker pen.
Creator's Spotlight
Creator's Spotlight was a series of YouTube videos hosted by Mamamonkey that featured interviews with creators. Currently, no new episodes are being published.

Early Examples of Creations
Here is a small sample of early Maker Pen creations by players from 2017 and early 2018. Note that the maker pen was lacking a lot of its current features and saving creations was only added in late 2017.
For more recent examples, see Featured Rooms and visit them inside Rec Room. The winners of Creator Contests and Photo Contests also offer excellent examples of maker pen creations.