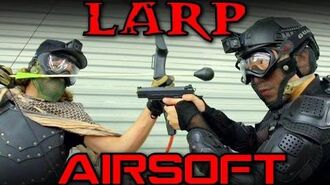 "LARPing" or "Live Action Role-Playing" in Rec Room most often consists of playing one of the Quests "in character" but it can also be performed in other Custom Rooms, e.g., the Park. Before the game starts, players choose a character (or are assigned a character) and dress up accordingly. While playing, players talk and act in a way that represents their character unless noted otherwise. (This is the opposite of normal gameplay where speaking and acting in character is the exception.)
LARPing is not very common in Rec Room. To find interested players, games for LARPing are sometimes published as Custom Rooms with the acronym "LARP" in the name of the room.
Community content is available under
CC-BY-SA
unless otherwise noted.