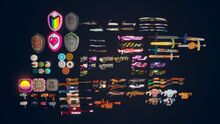 Item skins are a type of cosmetic item which will change the appearance of common Rec Room items. You can select any skins you have by using the Backpack Menu in the Watch Menu. When you pick up weapons / tools / Etc.. these fun decorations will appear
Item skins are divided into 5 categories: Sports, Paintball, Quests, Dice, and Others.
You are given a few skins by default. Most additional skins are earned by completing weekly challenges, but some have to be bought for tokens in the Store. For example; the purple maker pen for 900 Tokens.
Sports
Paintball
Rec Royale
Quests
Golden Trophy/Crimson Cauldron
Jumbotron/Lasertag
Dice
Other