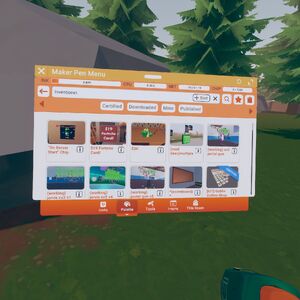 Inventions are publishable groups of Maker Pen objects, gadgets, and props. They allow players to share Maker Pen creations without publishing a whole Custom Room, to transport creations between rooms, and to organise groups of objects within a room.
Creating Inventions
See the Make Invention button of the Maker Pen.
Editing and Spawning Inventions
See the Inventions Tab of the Palette.
Selecting a Spawned Invention
Once an invention has been spawned in a room, all objects, gadgets, and props that are/were part of it may be selected with the Maker Pen; see Select Entire Invention.
Finding Published Inventions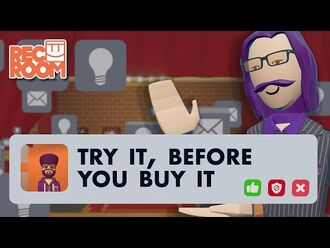 See the Inventions tab of the Store Menu in the Watch Menu.

RecRoomOriginal Inventions
The Store Menu includes #RRO (RecRoomOriginal) inventions, which are accessible in the Inventions tab using the #RRO filter (the bottom, right button with the Rec Room logo). The following #RRO inventions are available as of January 2020:
Stunt Runner Start Gate: Includes four spawn points of official races!
Stunt Runner End Area: Includes a button, and leaderboard chip already wired.
Stunt Runner Bounce Pad: Better than a step ladder.
Stunt Runner Checkpoint: RecTv's official checkpoint arch used in Stunt Runner
Stunt Runner Commentator: RecTVs official commentator booth.