Fan art related to Rec Room comes in many shapes and forms but the best place to learn about the latest creations and talk about Rec Room fan art is the #fanart channel on the official discord as well as the Artwork channel of the Rec Room Community Hub on Steam. This page gives an overview of notable fan art by the player community. For fan art created with the Maker Pen, see the page about the Maker Pen Community.
Traces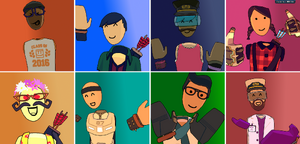 Harrison's WiX site "Rec Room Art" features many traces by EmilyWafflesYay of avatars of Rec Room users, as well as in-game photos, and maker pen creations.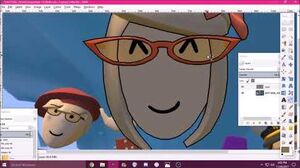 In-Game Photos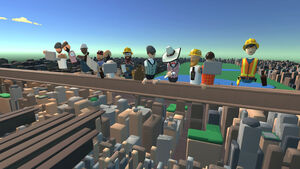 The first Photo Contest was organized by Against Gravity in July 2018 and resulted in many excellent in-game photos..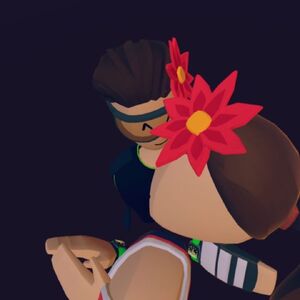 Several Rec Room players share in-game photos on Instagram. This is a particularly noteworthy example by NobleArcher. forbym summarized his thoughts about the image this way: "here are a few highlights: note the dark background and the bright figures (reference to Chiaroscuro?), note how the flowers (reference to Gauguin?) flow into each other, note how their red color is complemented by the green wristbands (note the meaning of wristbands of the same color, which only recroom players would understand), note the childlike posture of the figure in the foreground and the smiling figure in the background bending over the figure in the foreground (reference to this painting by Il Sassoferrato? ), and i could go on ... one more thing that I have to mention: note how the red of the flowers is picked up subtly at the bottom of the picture by the shirt of the figure in the foreground, and note how the green of the wristbands is picked up equally subtly by the collar of the figure in the background."

Drawings and Paintings
Rec Room has inspired drawings with traditional techniques.
Digital Models
Inspired by Rec Room's art style, QueenAnarya and others have started 3D modeling and rendering in a similar style.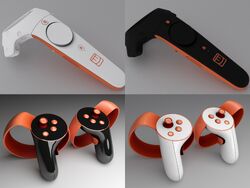 Controller Skins for SteamVR
SteamVR allows users to install alternative digital models for their controllers. QueenAnarya created RecRoom-themed skins for Vive and Rift controllers.
Phone Wall Papers
Gobbleglobble made some excellent phone wall papers:
3D Print and Laser-Cut Models
With digital models, 3D prints and laser cuts are possible.
Dioramas and Figurines
Priscilla has been working on several Rec Room dioramas and figurines of Rec Room avatars, see her "Rec Room Art" page.
1:1 Models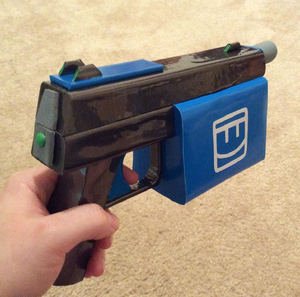 Priscilla has created a 1:1 model of a paintball gun.

Parodic Celebrity Magazine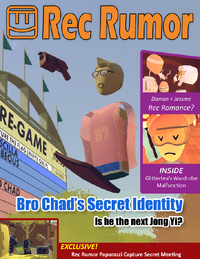 In July and August 2017, a group of Rec Room players led by Priscilla created the parodic celebrity magazine "Rec Rumor" with fictional gossip about players who were well-known among regular players ("Rec Room celebrities").

Quest Concepts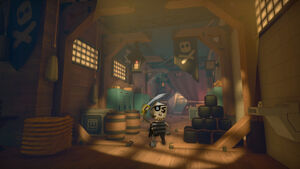 Raiborn has created several concepts for future quests. Some of the ideas apparently influenced the Isle of Lost Skulls quest.