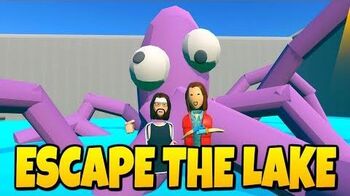 Player-created escape rooms have become popular in Rec Room since Room Doors in Custom Rooms can be unlocked with Circuits.
Many escape rooms use the room tag #EscapeRoom. You can find these rooms by searching for "#EscapeRoom" on rec.net. Some escape rooms lack the tag but have related tags (e.g., #puzzle) or can be found by searching for the name "escape" and scrolling down to the rooms in the search results.
The puzzles include finding doors, or finding things in the room and then choosing the correct door or entering a code to unlock a door (for example, using a number pad), or placing specific objects in specific places (which can be detected with Trigger Zones).
Many player-created Interactive Stories and Adventure Games use similar puzzles and room doors that can be unlocked.
Community content is available under
CC-BY-SA
unless otherwise noted.