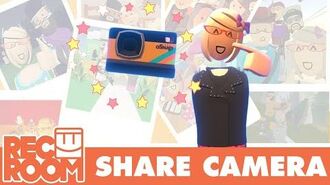 The camera (also known as the "share camera") is available in the Tools tab of the Backpack Menu of your Watch Menu: tap the "Use" button next to it with a free hand by moving the controller close to it. It is also available with the Expresso system and with a particular hand gesture. If the camera has been set as your "Favorite", it can be retrieved by reaching over your shoulder and pulling the trigger, much like the map in Rec Royale. See Screen Mode for the controls without VR headset. 
The camera allows you to take pictures anywhere in Rec Room using either a front- or rear-facing camera. Pictures taken by the camera can be uploaded to rec.net or printed virtually, which will make a small virtual object that will stick to surfaces that it's placed on, and will be saved in Custom Rooms. You can also set the picture as your profile picture.
When using a camera, you can close the camera with the top-left button; open the camera settings (timer and Film filter) with the top-right button; activate a tripod option with the bottom-left button to freeze the camera midair when you drop it; switch between front-facing and rear-facing camera with the bottom-right button; and take a picture with the bottom-center button.
After taking a picture, you can return to take another picture with the top-left button; print it virtually with the top-center button; set it as profile picture with the top-right button; and upload it to rec.net with the bottom-center button.